The construction industry is changing.
A more diverse and skilled workforce is at the heart of how we will unlock sustainable growth for our own business, the construction sector and the wider UK economy. Travis Perkins plc is a champion for skills, leading the development of the next generation.
Building better for everyone
Travis Perkins plc is a UK leading provider of Apprenticeships, rated 'Good' by Ofsted. We have a target to train 10,000 apprentices in the construction industry by 2030, through a range of programmes that cover everything from branch to boardroom. Apprenticeships are fundamental to ensuring the industry has the skills needed to deliver on net zero, retrofitting buildings, and creating and sustaining a built environment we can all be proud of.
Find out more
Skills for the future
Watch this video to learn more about our Apprenticeships.
Advocating for an upskilled construction industry
As a leader in our industry, we are committed to providing people in our own business and in the wider sector with the skills they need to deliver a built environment fit for the future.
A vital ingredient in developing the next generation is our industry leading apprenticeships. These help to attract new and more diverse talent to construction, and accelerate the learning of the new skills for people of all backgrounds to build their career in the construction industry.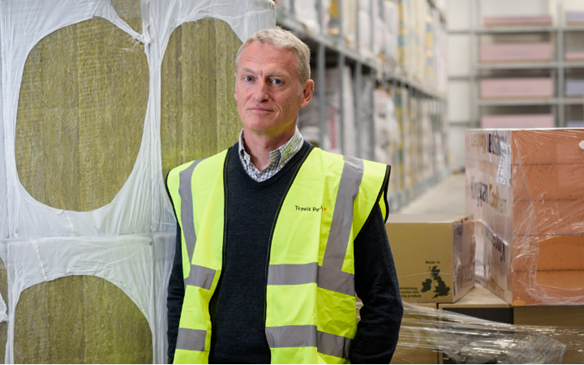 Our CEO, Nick Roberts, was appointed industry sponsor of People and Skills on the Construction Leadership Council in 2023. He actively promotes the role of skills and advocates upskilling the UK construction industry with apprenticeships through conversations with companies and policymakers.
We're here to help build better communities and enrich lives
Watch our Chief HR Officer, Emma Rose, discuss this year's results and our purpose, which goes beyond our materials and technology to building better communities and enriching lives.
Find out more
Meet our apprentices
Learn about our apprenticeship programmes by meeting our apprentices, who are strengthening our industry through their diverse experience, skills and talent. Pictured is Hannah, who joined as a fast-track management apprentice at BSS in 2021 and now works as Branch Hire Manager.
Click here to read Hannah's story
"Travis Perkins is a skills and apprenticeships powerhouse, and I'm delighted that since training its 1000th apprentice, the company is not resting on its laurels and is aiming for an amazing 10,000 apprentices by 2030.

"This is exactly the kind of initiative which will extend the ladder of opportunity to people from all backgrounds across the country and help them to secure sustainable, fulfilling work. I hope other businesses follow this blueprint for success as I continue to work with employers to incentivise people to learn the skills which are crucial to keeping our economy and our country moving."
The Rt Hon Robert Halfon MP
Minister for Skills, Apprenticeships and Higher Education
Department for Education

Partner spotlight
Multiverse delivers our training and courses on data, which empower apprentices and colleagues in different roles to understand and use technology and data-driven insights for better decision making.
Learn more about Multiverse
Ofsted certified
Our apprenticeship programme was rated 'Good' by Ofsted in 2023. The report is filled with positive comments about the high quality training, experience, support and mentorship provided to our talented apprentices.
Read the entire report
Get in touch
We need lots of diverse talents to build the construction industry of the future together. If you want to help us build better communities, or are interested in learning more, please visit our LEAP website or get in touch.
Find out more