Travis Perkins Group is the UK's largest distributor of building materials with a growing presence in Europe through Toolstation.
The Group has set out its ambition to become the leading partner to the construction industry. The investment case set out below provides an overview of the Group, explores the long term structural drivers of the end markets that the Group serves and explains the sources of competitive advantage that will enable the Group to achieve this ambition and deliver attractive returns for shareholders.
Proud to have helped to build Britain for over 200 years, Travis Perkins plc is the largest distributor of building materials in the UK with a growing presence in France, Belgium and the Netherlands through Toolstation. The Group employs over 20,000 colleagues across a portfolio of market leading businesses, which are all #1 or #2 in their markets.

Travis Perkins plc - a leading partner to the construction industry with a clear strategy for growth
Operating and leading in attractive markets
Well invested businesses with market leading positions
Leading the evolution of the Merchant model
Maximising the growth potential of Toolstation in UK and Europe
Maintaining operational agility and discipline in capital allocation
Focused and experienced management team
Attractive returns for shareholders
The Group is guided by a clear purpose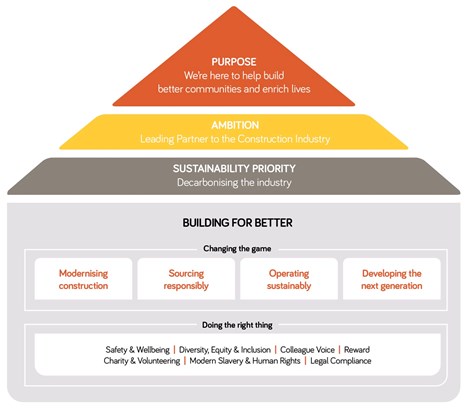 Operating and leading in attractive markets
The Group benefits from diverse end market exposure across the construction sector.

Long term structural growth drivers


Merchanting market share gains driven by network expansion and value-added services
Actions taken to refocus and modernise the business have delivered strong results with operating profit up 18%,* capital employed reduced by £(95)m and ROCE up 280bps* 2018-22
Recycling capital into larger destination branches with focus on major conurbation
Deepening relationships through digital leadership and enhanced specialist proposition
Ongoing evolution of services to elevate relationships and increase penetration
Selective bolt on M&A to address new markets and add capability

Substantial Toolstation growth potential in both UK and European markets
Digitally-led lightside format with leading value and service proposition
UK revenue CAGR of ~17% 2012-22 but still substantial scope for market share gains
Significant UK maturity benefits remain with around 50% of branches yet to reach maturity. Target £1bn+ of revenue from 650 branches
Strategy focused on deepening relationships with trade customers
Untapped Toolstation Europe potential with first mover advantage in Benelux and France

Maintaining operational agility and discipline in capital allocation
Robust balance sheet with strong cash generation
Leverage targets support investment grade debt metrics / pricing
Disciplined capital allocation funded from free cashflow
Freehold property backing protects key assets, generates earnings and recycles cash
Focus on operational efficiency with cost base flexed to reflect market conditions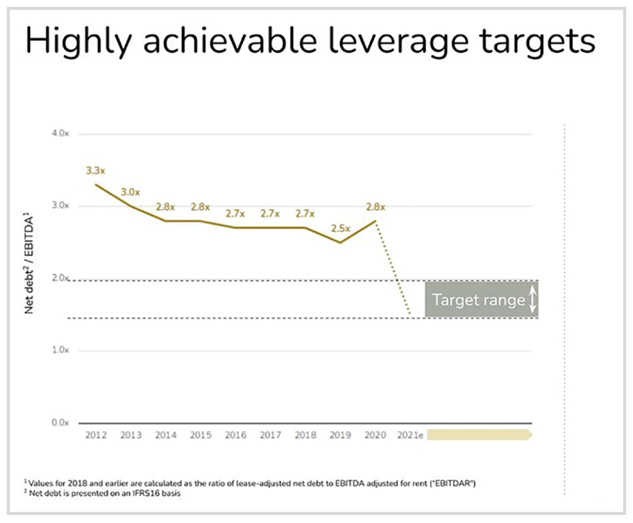 Significant reduction in Group leverage since 2012 with material reduction driven by 2021 portfolio actions
Target leverage of 1.5 - 2.0x Net debt / EBITDA
Expect to operate in the medium term towards the lower end of the target range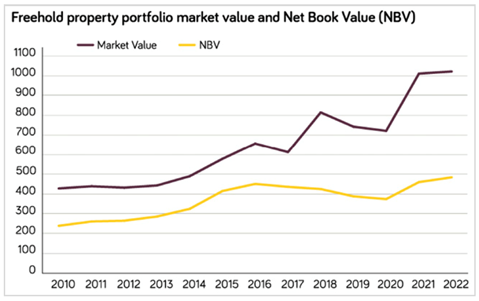 Since 2010 the market value of the Group's freehold estate has grown by almost £600m and the book value has grown by c.£240m. During this period the portfolio has also generated net proceeds after reinvestment of £100m and profits of £300m. This highly capable management of the property portfolio enables the Group to access the best operational sites, generate cash and release profits.
Attractive returns for shareholders
Attractive earnings growth
Ordinary dividend (30 – 40% FY adj. earnings)
Potential for additional return of surplus capital